1,492 total views, 1 views today
This post was last updated 4 days ago by Yusuf Odukoya.
As a design agency, broadband internet is one of our most important tools. We recently bought a router from MTN Nigeria called the MTN HyNetflex and we thought it would be nice to do a review.
The MTN HyNetflex router is a business-class router that was developed by Chinese company ZTE. This review is based on the ZTE MF286 Router Model pictured below.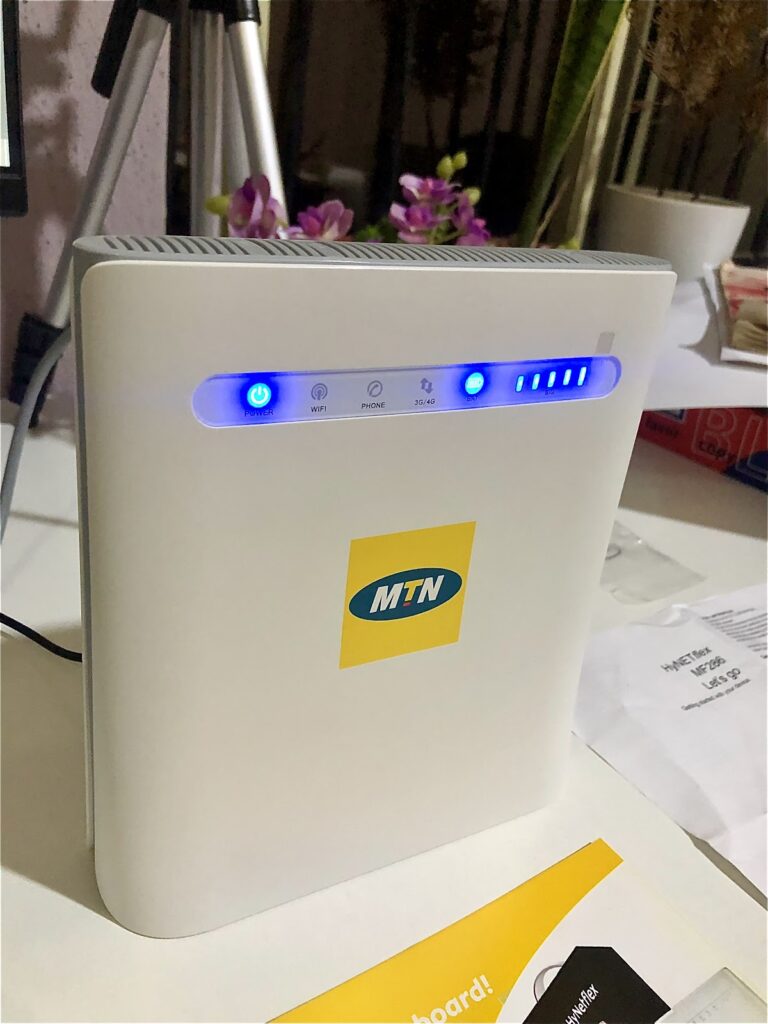 Please be informed that I am not affiliated with any telco brand and this review is 100% based on my personal experience with the device. I may, however, update this review if my experience changes.
 What Is In The Box
A ZTE MF286 Router (Branded as MTN HyNetflex)
2 Instruction Manuals 
1 RJ45 Ethernet LAN Cable
1 SIM Pack
A 12V 1.5A Charger 
I bought our MTN HyNetflex at the Palms Mall, Oniru, Victoria Island, Lagos, for ₦25,000 (Approx. $57), which is very cheap considering its features.
First Impressions
The larger part of its housing (or case) is a thick, white matte plastic, with a grey glossy chassis, which is perforated at both ends to allow for ventilation when the device is working. 
The router design looks very modern and the admin user interface is very nice to look at. The Admin User Interface sports MTN's rebranded look; You know, the new MTN Sans typeface, with their famous yellow and deep black colour scheme. 
In my opinion, MTN is the most unique telco in Nigeria in terms of branding and brand communications, and they've ensured visual consistency across all their platforms. MTN is the only Telecommunications company to have developed its own typeface from the ground up. No other brand in the world is using the same typeface.  Pictured below is the MTN HyNetflex Admin Dashboard.
The myMTN portal and the router's control panel both share a consistent look with the MTN's website. Personally, the UX is awesome and everything you'll ever need to manage your router and data plans can be easily spotted on the interface. 
MTN HyNetflex Technical Specs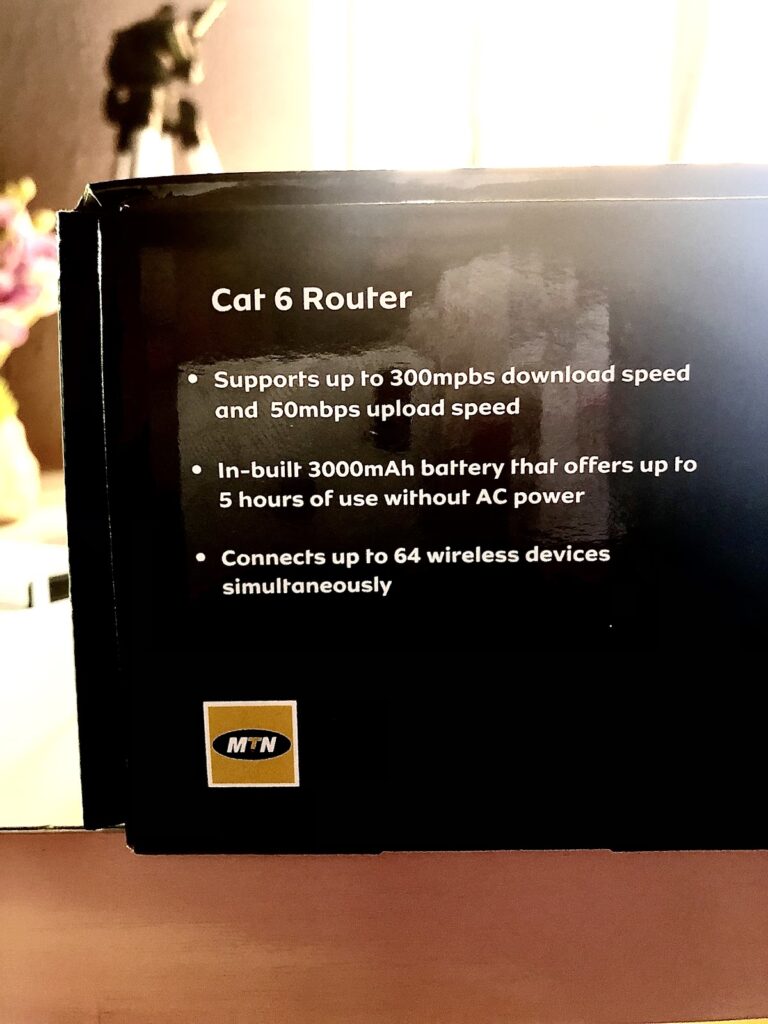 The MTN HyNetflex router is labeled as "Cat 6", which in theory, means that it could reach speeds of around 300 MB/s when needed.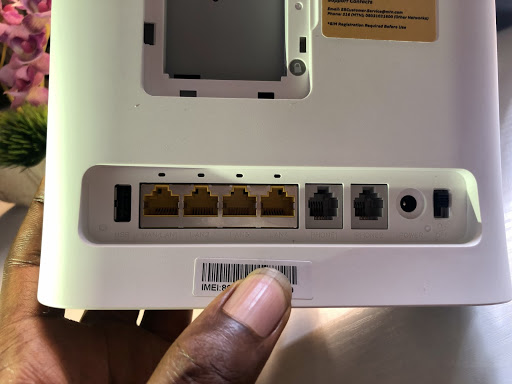 At the back, the router features four LAN ports and two WAN ports for telephony, plus one USB 2.0 port. 
This configuration allows it to power up to four devices simultaneously via wired LAN, and according to the instruction manual, you can connect up to 64 devices wirelessly through Wireless LAN (a.k.a WiFi), but I suspect that maxing out of the number of connected devices would overheat the router and damage it if used over long periods.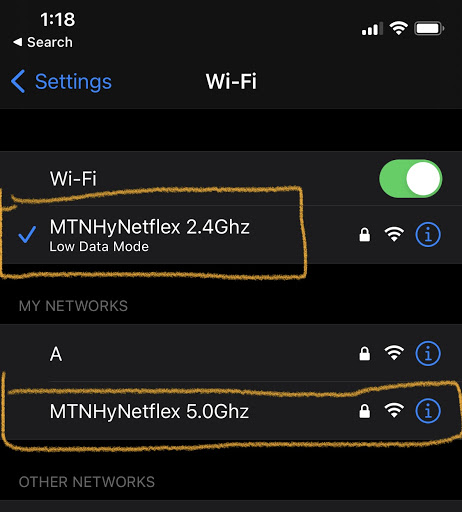 The router is dual-band, which means it has support for both 2.4 GHz and 5.0 GHz frequencies. In case you didn't know, the difference between 5.0 GHz and 2.0 GHz is the range and speed. 2.4 GHz is supported in more Wi-Fi devices and has a much wider coverage range.  
The 5.0 GHz is faster but even with a supported device, you have to move close enough to the router for you to be able to make use of the 5.0GHz frequency due to its comparatively lower coverage. 
Network Speed Tests
I tested both 2.4GHz and 5.0GHz and they both worked fine, however, according to tests, there was no noticeable difference in download speed on both frequencies. I also tested the LAN cable and carefully observed the bandwidth, but it didn't translate to a faster internet as well. This is perhaps a result of the standard throttling practiced by almost all the mobile telecommunication companies offering internet services in Nigeria. 
One thing I like about the MTN HyNet Flex router is that you do not need to tweak any settings to connect to either frequency because both frequencies are broadcasted by default. All you just need to do is connect to your most preferred frequency.  It can operate on both frequencies simultaneously and that's amazing. 
The router claims it supports up to 300Mb/s  download speed and 50Mb/s upload speed, but the peak bandwidth I was able to squeeze from MTN is Upload: 40MB/s and Download: 24 Mb/s. 
The average download speed fluctuated between 2.5Mb/s and 4Mb/s but bursts up to 24Mb/s when downloading large content. I used it to upgrade my 2015 MacBook Air from OS X Mojave to macOS Big Sur which is around 12.6GB and the download was completed in about 1 hour.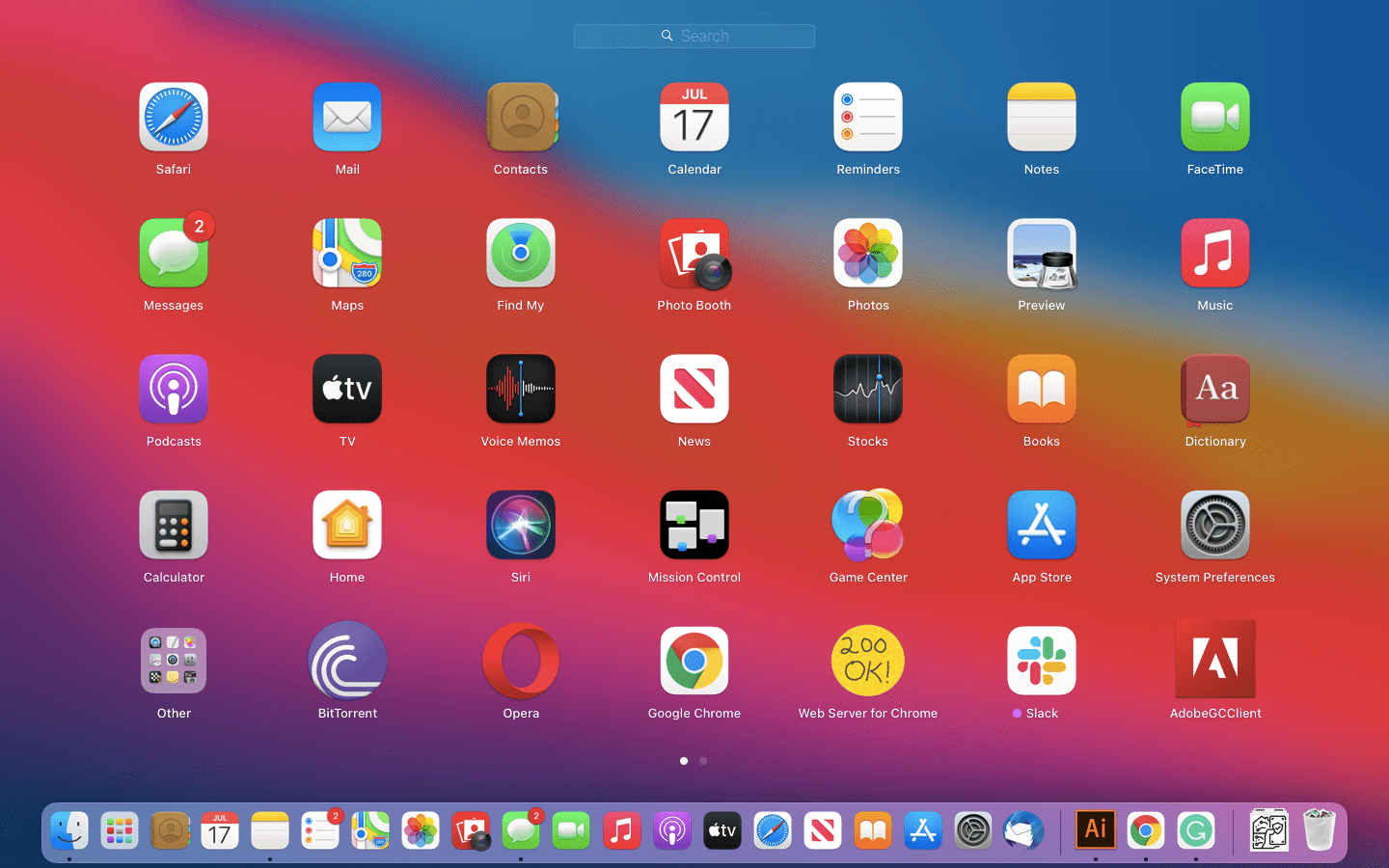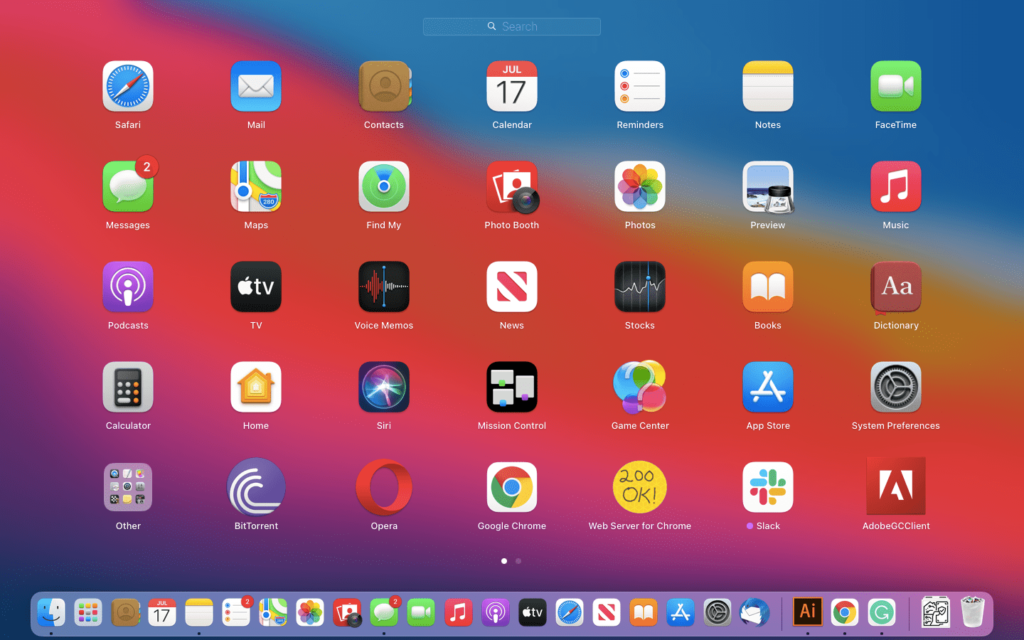 Bonuses & Extras
As they had promised, I got the FREE 120GB bonus after activating the new MTN SIM. The Free 120GB can't be rolled over and it expires in 30 days, but MTN says you'll get to enjoy a 100% data bonus on whatever mobile data plan you buy for up to three months, which starts counting the day you activated the SIM Card. 
There's no daily Fair Usage Policy restriction on the FREE 120GB MTN HyNetflex bonus, which means you could use it all in one day if you so wish. I used about 10GB within 24hrs of getting it. 
MTN HyNetflex Battery Test
With the factory-fitted charger, the average time it took to reach 100% from 0% is 1 hour and 30 minutes.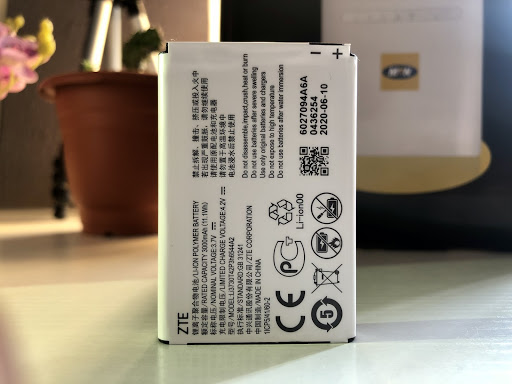 The enclosed Li-Po battery boasts a capacity of 3000 mAh, but tests have shown really disappointing results. Even with a single device connected and a moderate data transfer activity, the battery struggled to last up to one hour. 
Prior to my purchase, I was told that the battery could last up to 7 hours. It was also boldly written on the pack that the battery offers up to "5 hours of use without AC Power" which I thought I'll be able to use for up to 6 hours with moderate use. 
To cut the long story short, I was a bit disappointed to find out that the battery barely lasts up to an hour after a full charge.
If battery duration between charges is crucial to you, then you might want to reconsider purchasing this router. I initially thought I was unlucky with a faulty device but every person who has used this router has the same thing to say about the battery life.
Warranty & Returns
I'm not aware of any warranty or return policy from MTN, but the Limited Warranty from ZTE which can be found in the enclosed technical manual doesn't make much sense to me as an MTN Customer. If you are curious about their warranty and return policy on this product, then you might want to contact MTN on 180 for firsthand information on this.
MTN HyNetflex Charging Problems
The MTN HyNetflex MF286 charger has the following technical specs;
Input Voltage: 100-240V, 1.0A
Output: 12V, 1.5A, 18 Watts
The charging issues I have noticed right from the very first day of use is as follows;
The router stops charging the battery once there's an interruption of power. For example, switching to Generator when PHCN seizes the light and vice versa. There's no amount of plugging and unplugging that would cause the router to resume charging. 

For the router to resume charging, you must have to remove and reinsert the battery — That's the only solution that has worked so far. Every other method has proved futile. 

The router randomly stops charging, even without any interruption of power. As mentioned above, you would have to remove and reinsert the battery to resume charging. 

The above-mentioned problems are persistent in nature. Which means they reoccur shortly after you've "solved" it. 
I was able to confirm that the charging issues were not related to the router's charger by using the MTN HyNet Flex charger to power our DStv decoder for about two hours, which worked fine since they share similar specs. 
I've had to start using the router without a battery so that the battery doesn't get damaged from severe discharge. 
UPDATE: After reading my "rant", an MTN official (Name withheld) called me and offered a somewhat makeshift solution by providing me with an external battery backup (A 12V Huawei GT-4300 Lithium-ion battery rated 4300mAH ). That is a rare gesture and I was impressed by his professionalism.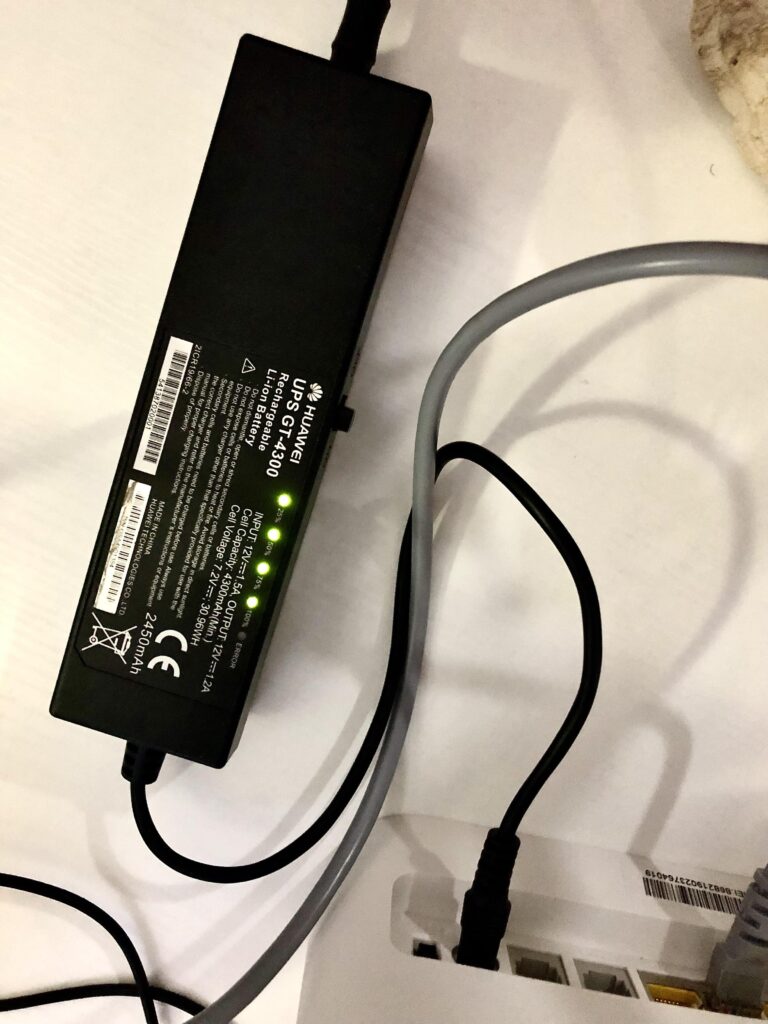 Should you buy the MTN HyNetflex Router?
BUY it if electric power is always within your reach and you have a UPS. 

BUY it if you believe that both the MTN HyNetflex's features and the 120GB bonus are great compensation for the poor battery life.

DON'T buy if you need a router that gives you enough battery backup after a power outage. The MTN HyNetflex barely lasts an hour after a full charge. 

DON'T buy if you don't have a good UPS that can help prevent disruptions during power cuts.
Final Verdict
The MTN HyNetflex is a very pretty-looking device save for the battery. However, considering its ridiculously cheap price of just ₦25,000, it might prove to be a good investment if you always have power available within reach, but with the current epileptic nature of power supply in Nigeria, I do think this is going to be a bad purchase for most people. 
If you do not intend to connect more than 8 devices at once, then a portable Universal MiFi from Huawei is a better option. 
That's a brutally honest review of the new MTN HyNetflex router according to my personal experience with the device. 
---
If you have any questions to ask me, kindly comment below. Thanks for reading. 
Yusuf Odukoya
Yusuf Odukoya is the Senior Designer and Art Director at Branditechture. His professional experience dates as far back as 2007. He has a special place in his heart for rabbits. He loves watching National Geographic Wild in his free time.