WordPress is by far the most popular website publishing platform globally, and there are many reasons why it could be the perfect option for your next website design project.
Powering over 41% of the world's websites as of June 2021, WordPress' "aggressive" dominance on the worldwide web is perhaps a result of its notable flexibility, plus the fact that it can serve as a backend infrastructure for standard blogs, e-commerce websites, and even static web pages. Let's build your website with WordPress.
WordPress is free, open-source software that anyone can download and use. It provides the framework for any type of website you can dream of – but is WordPress right for you? Yes, if you love the idea of having a website you can genuinely call yours.
A WordPress website is not expected to be difficult to manage at all, but a lot of people still lack the technical knowledge to take care of the platform's moving parts. Luckily, we have website maintenance plans for small businesses and personal websites. Those who are already familiar with managing their own site, however, might just be fine.
If you want us to manage your WordPress website, perhaps due to lack of time or technical expertise, we have very affordable website maintenance plans. 
Why WordPress is perfect for your next website project
Well, here are 9 reasons why we think WordPress is the perfect engine room to power your next website project.
WordPress is remarkably popular
It is supported by all web hosting companies
It has a huge ecosystem of plugins to add functionality
WordPress makes Search Engine Optimization a breeze
Visual customizations via themes
It is free and open-source
Easy to Install & get started with One-click installs
Allows for multiple users & roles e.g Authors, Contributors, Editors, Administrators, etc.
The "big guys" use it
For absolute beginners who are interested in WordPress, I'd recommend trying WordPress.com first. WordPress.com allows you to create a WordPress website for free and without dealing with any of the website management issues.
1. WordPress is remarkably popular
If you're having a problem with WordPress, there is a very good chance that someone has dealt with the same issue before. There are plenty of places on the internet to source support if you ever need help.
The official forum and WordPress Help site are full of useful information. There are also tons of blogs, YouTube videos, and businesses providing custom support to help you on your WordPress journey.
When I started my journey as a WordPress developer, WPBeginner was (and probably still) my most preferred website for seeking quick solutions as well as plugin recommendations. It is like the "W3Schools" of WordPress. In addition, many web hosting companies also have helpful WordPress support pages, which typically include tips about navigating the parts of WordPress that rely on their infrastructure.
2. It is supported by all web hosting companies
In my 10 years as a website developer, I have yet to see a website hosting company that does not support WordPress. Yes, performance may vary between web hosts, but the most important point here is that they all support WordPress.
WordPress allows you to host your own site and tweak it to the core. This is an important advantage for advanced users who don't want the restrictions of WordPress.com, which limits site customizations.
Choosing your own web hosting company also means you can switch hosting providers and upgrade your hosting packages as your site's storage and traffic demands increase.
From my 6+ years of experience with different website hosting companies, Namecheap still remains the best web for both beginners and business people who value their time.
Some web hosting companies offer tailored plans for WordPress websites. These plans usually come with features such as automated WordPress updates, and sometimes extra features such as email marketing, but they may come pricey.
On the other hand, there are also a bunch of inferior-quality web hosting service providers that are just out there to strip you out of your hard-earned cash. If you want a WordPress hosting plan, it pays to watch out while you shop around. The good news is that you do not have to go through all that stress if you are a Branditechture customer.
3. Huge collection of plugins to add functionality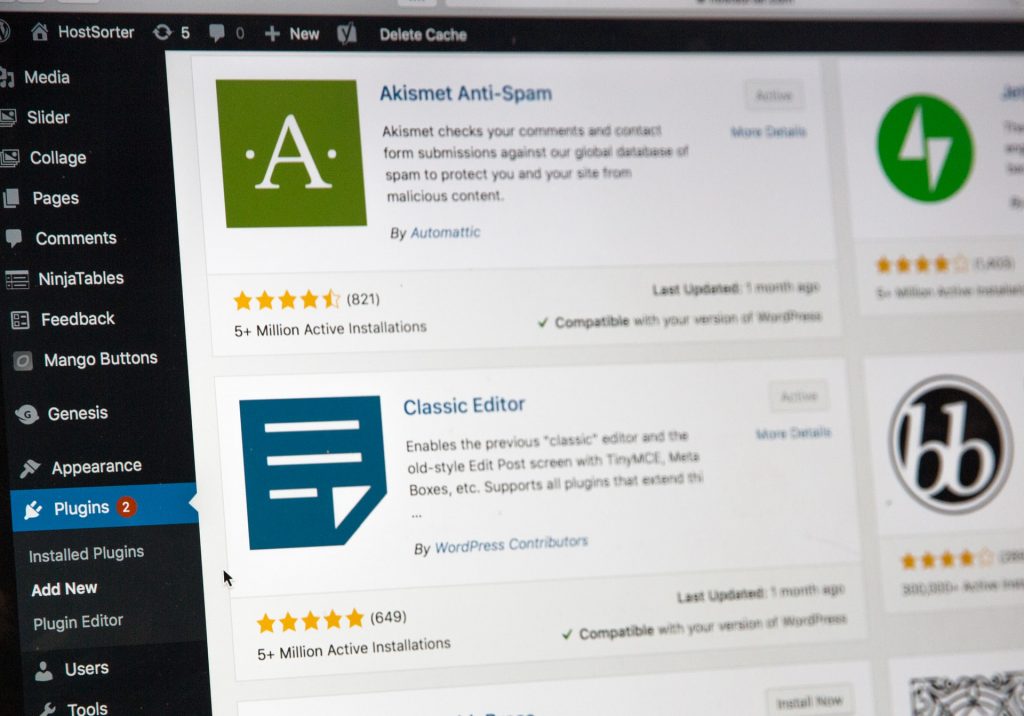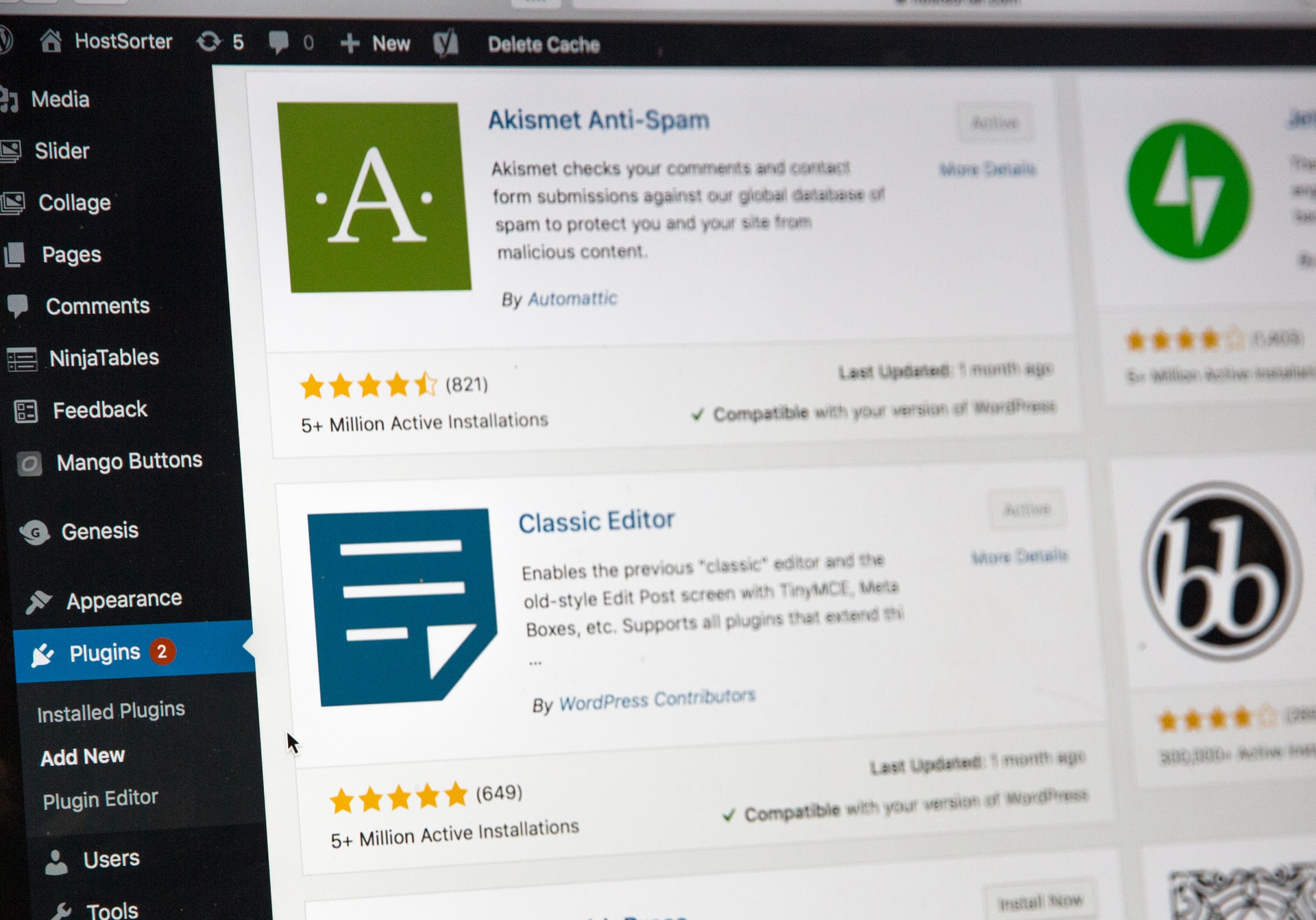 The jewel in WordPress' crown is the abundance of plugins. Plugins enhance the functionality and optimize users' websites. With plugins, you can enable features such as comment spam filtering, data visualizations (as shown up there), membership, live chat, anti-malware, scheduled website backup, e-commerce and payment gateway etc.
There is a sea of 100% free and freemium WordPress plugins from both private companies and independent developers.
LOVE THIS SITE?
Subscribe for updates
4. WordPress is built for SEO
WordPress is already optimized for search engines out of the box but plugins like Rank Math can further help improve your website's search engine ranking. Another popular choice is Yoast, which, like Rank Math, analyzes your content structure and give suggestions that help you improve the likelihood of better results on SERP.
These plugins all have extensive guides on their respective websites, guiding you through the process of improving your entire WordPress website's SEO.
There are also a bunch of other plugins that you could use to step up your SEO game. Now you see why we said WordPress has a huge ecosystem of plugins. You'll get overwhelmed with options to choose from.
5. Customizable themes
A new WordPress installation will usually give your website a "bare" look. It features a sample site title, a sample blog post, a comments section, a post archive section, and a few other parts. Needless to say, only a very few people leave their WordPress site as-is, probably because the default theme just looks too "boring".
That's where themes come in. Themes completely overhaul the look of your site. They are highly customizable, meaning you can personalize your chosen theme to give some uniqueness to the appearance of your website.
There are thousands of free WordPress themes to choose from. WordPress also features a theme marketplace right inside the CMS, while numerous web designers will offer their services to create a custom theme that's to your specifications.
You can find thousands of free WordPress themes in the official WordPress theme repository, but if they appear too simple or too similar for your liking, you can browse external theme libraries, such as ThemeForest for even more options.
6. WordPress is free & open-source
WordPress is open-source software, meaning anyone can look at its source code. In fact, anyone who has the knowledge and ability could also modify it if they wished, and redistribute the source code as their own.
The fact that anyone can read and discover flaws in the code has helped make WordPress more secure and it also encourages the platform to add new features.
On top of that, WordPress won't cost you a penny; there are no one-time or monthly fees required to install the platform. All you need to do is download it, and it's yours.
7. Easy to install & get started with one-click Installs
Most web hosting companies offer one-click installs, making it very possible to get your new website set up in less than a minute. With one-click WordPress installs, you do not have to face the technicalities of prepping your own LAMP stack, as well as setting up your own MySQL database.
You'll only need to spend time tweaking your theme, creating new pages, installing plugins, but getting up and running is relatively quick and easy.
WordPress sports a large variety of page-building plugins popularly referred to as page builders. Examples are Elementor, Divi, WP Bakery, Site Origin, etc.
Elementor is the most used page builder amongst them all. Page builders make building new WordPress pages as easy as a pie, and even if you are a total n00b, you could get started in minutes.
Read Also:  WordPress Website Prelaunch Checklist
8. WordPress allows multiple users & roles
If you like the idea of multiple users updating your website simultaneously, adding new users and user roles is easy as pie. From your Admin dashboard, all you need to do is click on Users, and Add New user.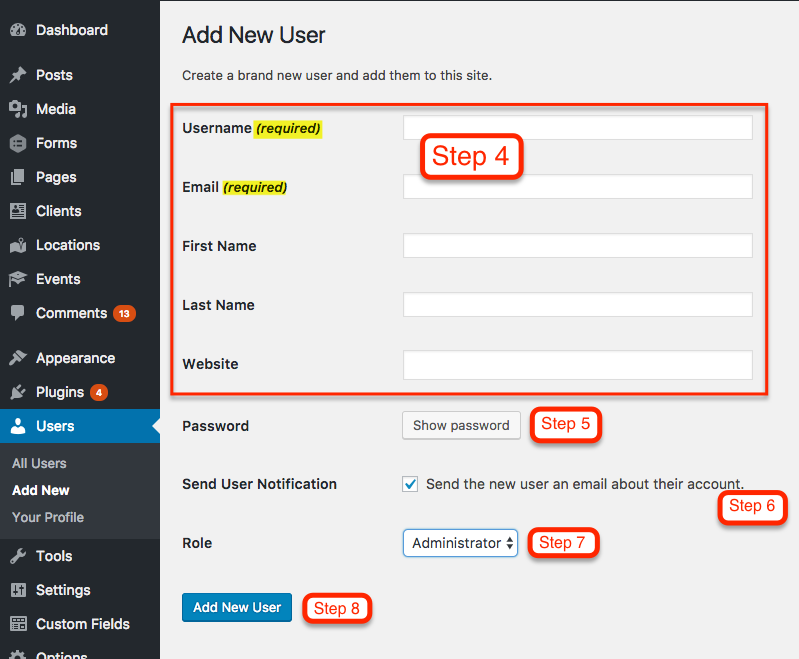 There, you can assign a username, password, role (e.g. Administrator, Subscriber, Editor, Author, etc.,).
9. The "Big Guys" use it
Contrary to popular belief, WordPress is not just for people trying to start up a little personal blog. It's also a very popular choice for large organizations such as Walt Disney, Bloomberg, BBC, MTN and celebrity superstars including Usain Bolt, Snoop Dogg, LL Cool J, Chris Brown and Katy Perry. On a serious note, copying superstars may not be the only good reason to opt for WordPress, but it does show that even prominent individuals with very large audiences are happy to use it.
The Disadvantages of WordPress
WordPress is pretty awesome, but it's not perfect by any means.
Here are some of the cons of running a WordPress-based website.
1. It's a big target for cyber attackers
WordPress' huge popularity means it is a big target for hackers. If a hacker finds an unknown vulnerability in the WordPress core, a massive number of sites would be exposed. Fortunately, WordPress gets regular updates, thanks to a huge community of developers. You should always ensure that your WordPress version is up to date.
Branditechture will take care of updates for you for a small monthly fee. If you wish to see the added benefits of subscribing to a maintenance plan, then click HERE to learn what's covered.
2. A bespoke design may cost you
WordPress is 100% free, and there are many themes you can get for free as well – but if you want some originality to your name, it may cost you.
That may mean purchasing a premium theme that only a few people are using, or hiring a website designer to come up with an original look. If you have some coding skills, you may be able to do this yourself, but it may not work out if you do not have the right eye for design. Fortunately, we exist to help you build a 100% bespoke website at very flexible rates.
3. Plugins need a fine balance
WordPress plugins are extremely helpful, but installing too many of them could impact your website's performance. Because of this, you may sometimes be faced with the dilemma of having to choose what plugins to deactivate/delete.
** There are alternatives
If WordPress doesn't sound like the right option for you, there are other alternative CMS available. You can try Shopify, Squarespace or Wix.
---
If you enjoyed reading, please help share this article. If you need to ask a question, please drop me a comment below. Thanks a lot.