Today, September 10, 2021, we received an official announcement from DomainKing confirming that they have "joined" a South Africa based hosting company named HostAfrica. 
DomainKing.ng is a NIRA-accredited Nigeria-based web hosting company that has been providing internet services such as web hosting, web design, domain registration and troubleshooting since 2008. 
DomainKing used to be a strong force in the Nigerian web hosting industry back in the early 2010s, allowing you to pay for hosting services in local currency. However, with the increasing ease and popularity of international payment gateways and a variety of other payment methods such as the cryptocurrency blockchain, they are now losing their market share to their foreign-based competitors.
The last time I checked, DomainKing was owned by FirstStack Technologies Pvt. Ltd., an Indian-based company. It is noteworthy that DomainKing is the largest Hosting provider in Nigeria by market share, with more than 18,000 active domains belonging to over 10,000 unique customers, then followed closely by Whogohost. 
Whogohost.com claims to be "the largest hosting company in Nigeria and the West African region", but there are certainly no figures to support that. 
A reverse DNS Lookup using Sitechecker also showed that their own website, whogohost.com, is hosted on Digital Ocean, another VPS and Cloud Hosting company. 
Their website's loading speed is also subpar. Don't take my word for it, visit https://whogohost.com and test for yourself. You can also watch the results from my own test in the video below;
It took a whopping 12 seconds for the Whogohost website to display any element to interact with.
LOVE THIS SITE?
Subscribe for updates
So all the above factors just makes it easy for me to dismiss the claim that they are the largest web hosting company in Nigeria and West Africa.
Need high-quality web design & development services? Check-in HERE.
Who is HostAfrica?
HostAfrica, (officially stylized as HOSTAFRICA) is a web hosting company based in Cape Town, South Africa. 
They have a relatively bigger and more stable organizational structure, with vast experience in the acquisition of web hosting businesses like that of DomainKing. They even have a dedicated landing page titled "Sell Your Web Hosting Business To HostAfrica" for such arrangements. They claimed to have helped a host of other web hosting companies with exit strategies. 
The official announcement from DomainKing reads as follows; 
"Dear DomainKing Customer
We write to you today to inform you that DomainKing has joined the HOSTAFRICA Group as of today 10 September 2021.
'www.domainking.ng' will operate under the legal entity HostAfrica (Pty) Ltd"
What to expect from the transition as a DomainKing customer
I have a few web properties hosted and registered with DomainKing and we probably share the same fear. However, I think there should be no cause for concern as an end-user. 
This should be somewhat similar to Shoprite's acquisition by Ketron Investment Nigeria Limited  — No drastic change should occur, but let's look at a few subtle changes to expect. 
What will change?
DomainKing would now add support for the PayPal payment gateway, as they plan to go full scale and compete for a global market share with their international counterparts. 

The DomainKing website will stay intact but will be updated with HostAfrica's branding.

Hosting and domain registration fees may change. Currently, DomainKing is the most affordable registrar of the .com.ng ccTLD, which goes at a price of ₦1,100 with Whogohost charging ₦1,200 for the same service. But let's hope that the new owners keep prices competitive. 
Are you happy with the acquisition of Domain King by Host Africa? Personally, I am because I'm optimistic that this change may contribute to the improvement of their hardware facilities and customer support services, which would generally lead to better offerings. 
To be honest they still have a lot of work to do with regards to their support services because DomainKing's LiveChat currently closes at 3:30 P.M on Workdays, which is considered too bare for a web hosting business in 2021.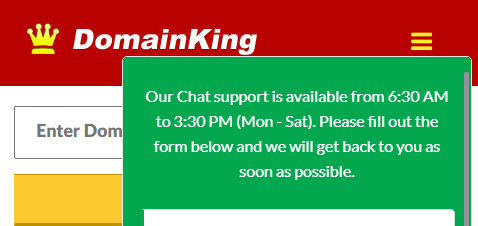 This is a far cry from Namecheap's 24/7 instant live support. 
So, I hope that this acquisition helps to put those things in place and create a space for remarkable growth.