1,170 total views, 4 views today
This post was last updated 3 months ago by Yusuf Odukoya.
My name is Yusuf. I hold multiple roles at Branditechture, but for the relevance of this article, I'd say that I am the Design Lead. I've been using the CorelDRAW Graphics Suite since version 12 — for over ten years in a row, but I have mainly used DRAW (or CorelDRAW) for a significant majority of this time.
Disclaimer:
This article in its entirety is a narration of my own experience. It may or may not define your own experience or that of anybody else with the computer program. However, I wish to implore Corel, Inc. to see this as a feedback and use it to improve their software in future version updates.
My experience is one that is relatable to a considerable portion of the CorelDRAW design community, and you may be able to relate to this too if you've ever worked with the program long-term. 
Corel Draw (officially spelled "CorelDRAW") is a professional vector design software used for creating and editing vector graphics (vector graphics are graphics that do not lose visual details regardless of the number of times zoomed in).
All my career, I had mainly used CorelDRAW to create things like editorials, product packaging, car wraps, billboard artwork, illustrations, logos, signage, and other content that require vector graphics.
I loved CorelDRAW so much that I even used it as a UI Design tool when others used Figma, InVision Studio, Adobe XD, etc.
I have had my ups and down with CorelDRAW, but I have recently decided to "leave my comfort zone" and end my long-term association with the software — Here are my reasons;
1. CorelDRAW freezes, a lot.
A very long time ago, one of CorelDRAW's unique selling points was its high performance on low-end personal computers. It rarely freezes, launches very quickly, and processes several commands very fast. This explains why earlier versions of CorelDRAW are still very much in use in the printing industry today.
It is not so uncommon to find cyber cafes and print outlets that are still using CorelDRAW X3 in 2021. As a side note, CorelDRAW x3 was released in January 2006.
As you would expect from a designer, I can't keep up with using CorelDRAW X3 in 2021 due to some missing features. So I use the latest stable version, or at least, two versions from the latest version, depending on the computer specifications I am working with. However, I must confess that my all-time favorite was the CorelDRAW version X7, which in my opinion has a good balance between nice features and performance. It freezes too, but not as frequently as its successors.
After CorelDRAW X7, the program's performance started to suffer a rapid decline. CorelDRAW's performance went from bad to worse with every new version released. It was quickly becoming a resource hog and a huge burden to even the best of PCs.
I suspect unoptimized code, but it could be more than that. Before you accuse my machines of being too low-end, here are the specs;
Model: HP Revolve 810 G2
Processor: Intel® Core™ i5-4300U with Intel HD Graphics 4400 (1.9 GHz, 3 MB cache, 2 cores)
Installed RAM: 12GB DDRL3 RAM
Graphics Memory: 512 MB Dedicated, 2GB Total.
Primary Disk Drive: 256GB M2 SSD, ~100GB+ Free Storage Memory.
I also have an old but fairly powerful Intel Xeon Computer With the following specs;
Model: HP xw6600 Workstation
Processor: Intel® Xeon™  E5410 / 2.33 GHz
Installed RAM: 8 GB DDR2 RAM
Graphics Memory: NVIDIA Quadro FX 4600 (768 MB), 4GB Total.
Primary Disk Drive: 512GB Samsung SSD, ~250GB+ Free Storage Memory.
I can categorically tell you that I run Adobe Illustrator 2021 with the above technical specifications without problems, although GPU Acceleration is not supported, which is quite not an issue. But I couldn't help but wonder how several CorelDRAW versions (i.e X8, 2017, 2018, 2019, 2020 & 2021) are unable to operate efficiently on the same machine that runs the latest version of Adobe Illustrator without problems.
2. Simple Copy—Paste Operations Can Take A Lot of Time
Copy and Paste is perhaps the most commonly used shortcut in the world, and graphic design programs are not exempted from this.
There are many times you'd rather opt to use Copy & Paste instead of using the Duplicate command in CorelDRAW, and I kid you not, you can't press Ctrl C and Ctrl+V in quick succession without being greeted with an error in CorelDRAW. This happens especially when you already have multiple pages with content ( Texts, Images, Illustrations, etc). I do editorial designs a lot, so it becomes frustrating that I'd have to wait for about a second or two between each Ctrl C and Ctrl V commands. For me, this is a lot of time.
3. CorelDRAW Takes Too Long To Save A File
When you save a moderately-sized .cdr file, you might notice a moment of unresponsiveness, or an inability to close the document window. CorelDRAW's eyeballs might also pop out of its socket, which may or may not be followed by an app crash.
I have lost count of how many times I have had to pray and hope that the program shouldn't close abruptly during this "trying" period. Luckily, saving a file rarely causes the program to crash or close abruptly, but it takes annoyingly long each time you hit the Save button (or press Ctrl + S).
4. The Program Closes Abruptly
No serious designer would be happy with a program that shuts down or closes abruptly for "no reason". Not to mention the countless occasions when I am in a full swing and I've done quite a lot in the few minutes after my last save, only to see the dreaded "CorelDRAW 20XX has stopped working".
I understand that no computer program is immune to crashes, but crashes are disgustingly commonplace on CorelDRAW, and each time it happens, it results in me losing some or all of my progress.
I hope you don't blame me for not remembering to hit the Ctrl+S button every minute. Not only would that be a distraction, but it would also take a toll on my computer's performance (and mine too) due to the disk read/write operations that take place each time you save a file. Sometimes the program temporarily freezes during this time, especially when your .cdr file has grown a bit large (say around 300MB).
The above performance problem is why I use Figma. Asides from using Figma for UI/UX design and prototyping, I also use it to design single-page PDF documents and event flyers. It is 100% cloud-based and auto-saves your progress with each second. As a matter of fact, you could literally hop from one PC to another to continue your work as the situation demands. It is also completely free and fast. It doesn't freeze even when your design file grows to 1GB.
Sometimes, CorelDRAW closes when you import a .eps (Encapsulated PostScript) or .ai (Adobe Illustrator) file, and other times when you attempt to copy and paste content in a moderately-sized .cdr document.
CorelDRAW is no longer my go-to tool for editorial design due to its sub-optimal performance and failure to properly leverage hardware acceleration. I now use Adobe InDesign for anything editorial or multi-paged.
5. CorelDRAW Corrupts Your .Cdr File If Save Operation Is Interrupted
Imagine designing an 80-page Brand Guide ( Download Sample Brand Guide [ 2.79MB ] )  on your Desktop Workstation and there is a sudden unexpected power cut, but your UPS couldn't stand the period that CorelDRAW requires to save a file before shutting off. Let me tell you something you probably didn't know before; If your PC unexpectedly shuts down before that save operation is complete, just bid your work farewell!
Your only hope is the automatic CorelDRAW backup (commonly titled backup_of_DocumentTitle.cdr), which might be missing major updates on the progress you have made so far.
To mitigate the risk of losing my entire file and progress, I always use the "Save As" command in such emergency situations so that it doesn't overwrite and thereby potentially causing permanent damage to my current file. In my opinion, this is a lot of stress and it requires a few "bitter" experiences to master how to manage such situations.
A similar occurrence is when your laptop battery unexpectedly shuts off during a save operation in CorelDRAW. This happens when you are working on a laptop that has a bad battery pack. I know that most people have a laptop with at least, an average battery backup, but it is still worth mentioning.
PLEASE NOTE: You may be unable to relate to my experience above if you only use CorelDRAW for less resource-intensive tasks like flat logo designs, flyers (1 flyer per document), and perharps, simple printing, etc.
6. Poor EPS Support
If you import graphic files a lot then you might have noticed a glitch with complex .eps files in CorelDRAW, where some parts of the imported graphic with effects (such as shadows and glow) lose their vector properties, thereby becoming raster/bitmap. See an example of what I mean in the image below (An .eps trifold flyer template imported from Freepik);
Importing the same EPS file into illustrator provided a higher fidelity graphic, where all layers, transparency, shadows and gradients were intact. See the screenshot below for a quick comparison.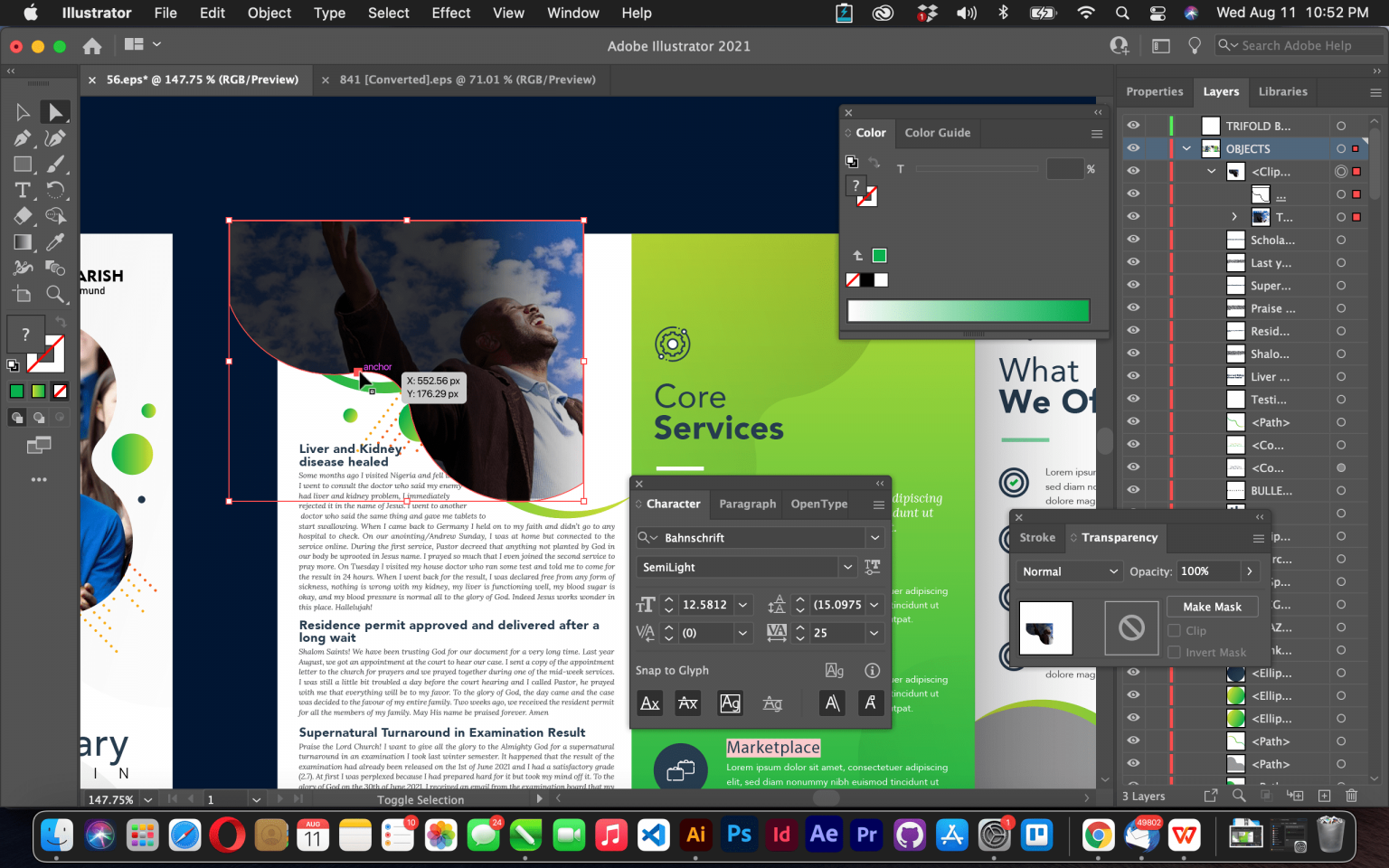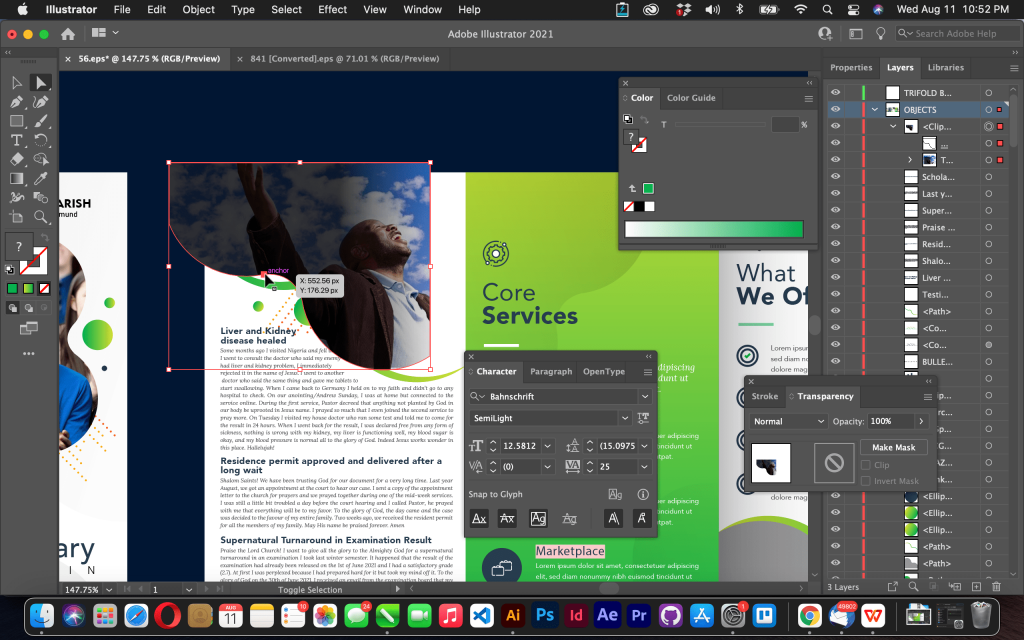 7. The User Interface is Outdated
This is probably a case of if it ain't broke don't fix it, so the outdated user interface might not really represent a big issue.
CorelDRAW arguably has the most interactive toolset of all vector illustration software ever made. The Interactive Fill, Transparency and Drop Shadow tool is still unmatched by any vector illustration software in the world. However, there have been little to no changes in the user interface for almost a decade now. The only major difference being the introduction of Dark Skin in CorelDRAW X8.
This is good in some ways but bad in many ways. Asides from an aesthetic standpoint, it also goes a long way to show that the CorelDRAW user interface design team is disconnected from current UI trends. Adobe, Google, Apple, Android, are among the top tech brands that have since moved to the rounded-cornered design system, meanwhile, Corel is still stuck with its same old interface.
Conclusion
This is not an Adobe promotion post, but I have since started to learn how to use Adobe Illustrator as an alternative. Adobe Software are more intelligently built towards optimizing resource utilization. For example, with support for GPU acceleration, Adobe apps would apply much lesser pressure on your CPU for rendering document previews in real-time.
I only have CorelDRAW installed on my machine just in case I need to do some revisions on some old projects. It is more like legacy software to me now and I doubt if I would ever be interested in future versions.
Mastering the use of Adobe Illustrator would also potentially immerse me in the Adobe Creative Cloud ecosystem. Apps like InDesign, After Effects, and Premiere Pro should now feel more intuitive and much easier to learn as well. The CorelDRAW Graphics Suite doesn't have a competing equivalent of these apps, so my scope would definitely become very limited if I kept sticking with CorelDRAW.
With an influx of fresh young designers every day, the competition is getting rifer, and if you need to broaden your horizon as a graphic designer, you might want to start appreciating the Adobe Creative Cloud apps now and start integrating them into your workflow.  Not only would it help you collaborate better with other designers worldwide, but it would also make you more valuable in the eyes of most HR, assuming you wish to work as an employee.
Yusuf Odukoya
Yusuf Odukoya is the Senior Designer and Art Director at Branditechture. His professional experience dates as far back as 2007. He has a special place in his heart for rabbits. He loves watching National Geographic Wild in his free time.
Related Posts