Your business is our business, that's why we invest our time and money in writing detailed guides like this.
In most countries, self-employment is the only realistic way of keeping mind and would together, and statistics have gone further to prove that to us. 
An estimated total of 81.29% of the working population in Nigeria are self-employed, according to the latest data retrieved from the database of the International Labour Organization, ILOSTAT in September 2019. 
According to a Forbes survey, nearly 30% of Americans are fully self-employed.
Self-employed professionals are those working on their own account, under a brand of their own, or in collaboration with one or more partners. 
Following the economic effects of the COVID-19 pandemic, multi-national oil and gas company, Chevron, announces a 25% job cut. This means they are laying off a quarter of their workforce.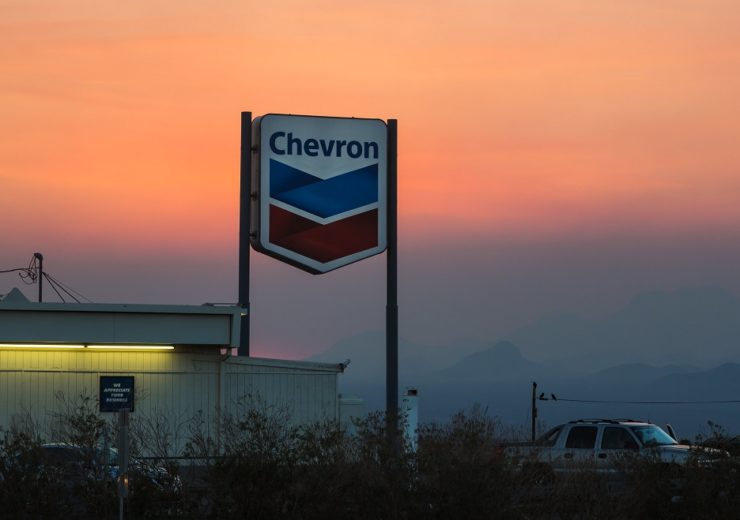 With many other corporate institutions also following the same direction, it is imperative for employees to have an alter-ego of themselves in order to absorb the shock often accompanied by such news. 
Marketing your business with a $0 marketing budget can be difficult, but here are 8 proven ways to achieve that whether as a freelancer or as a company.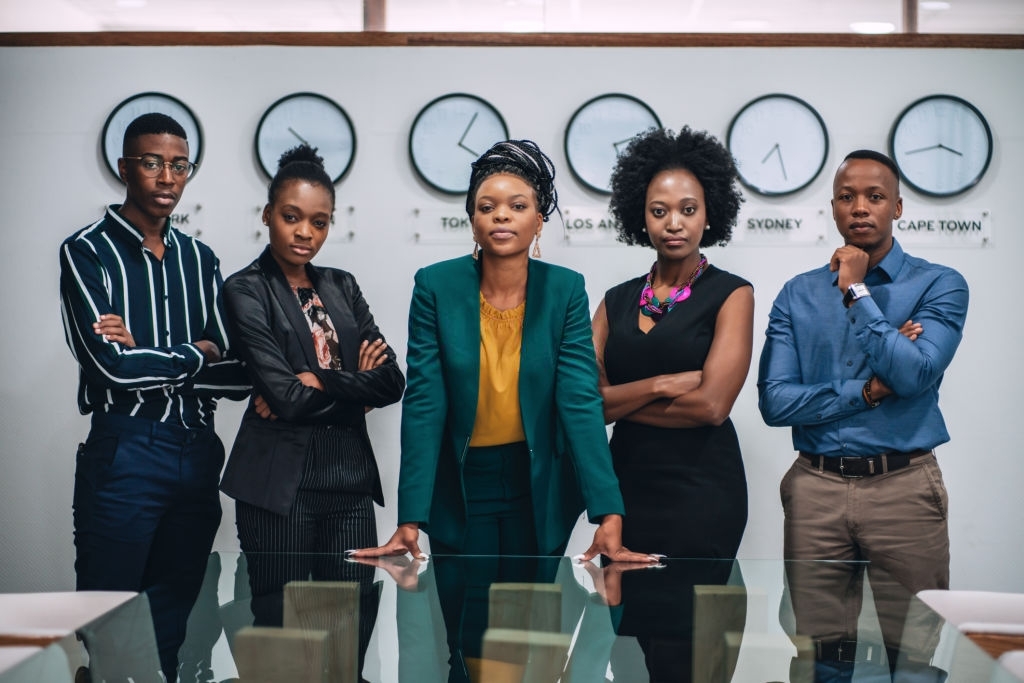 Even though this article focuses on self-employed professionals, you can pretty much apply almost every one of this strategy if you run a company. 
Remember this – When you are self-employed, you are either working alone (e.g Freelancing) or you are an employer with employee(s) under your management (e.g LLC, Ltd.). 
In today's highly competitive marketplace warfare, getting your own share of clientele is a battle you must conquer.
It doesn't just end there, you must also learn and adopt some strategies to keep this relationship alive.
Here is a blueprint of how to sell yourself or your business, no matter what type of business you run;
Set up an Invoicing System For Your Business
When it comes to getting paid for your efforts and time, there is no better advocate than an invoice. At Branditechture, we use WaveApps for this purpose.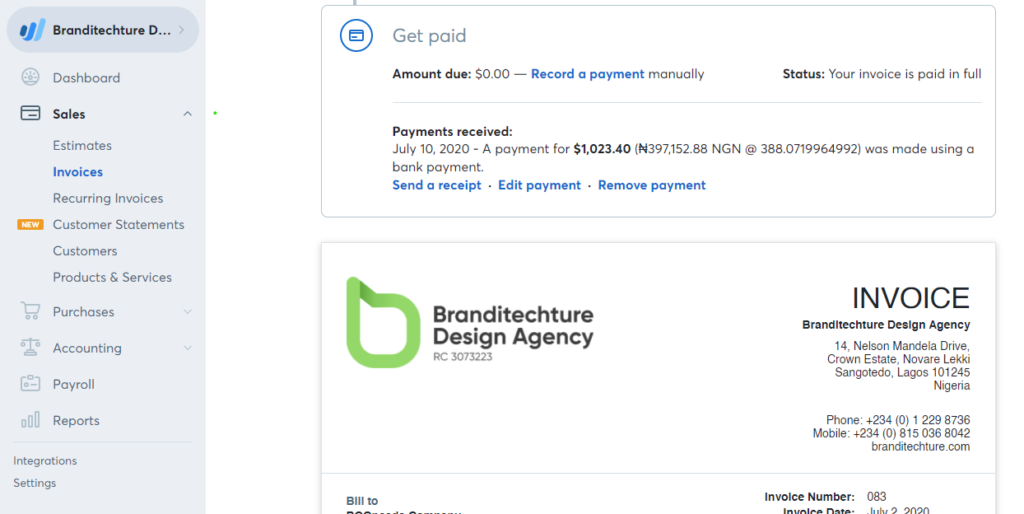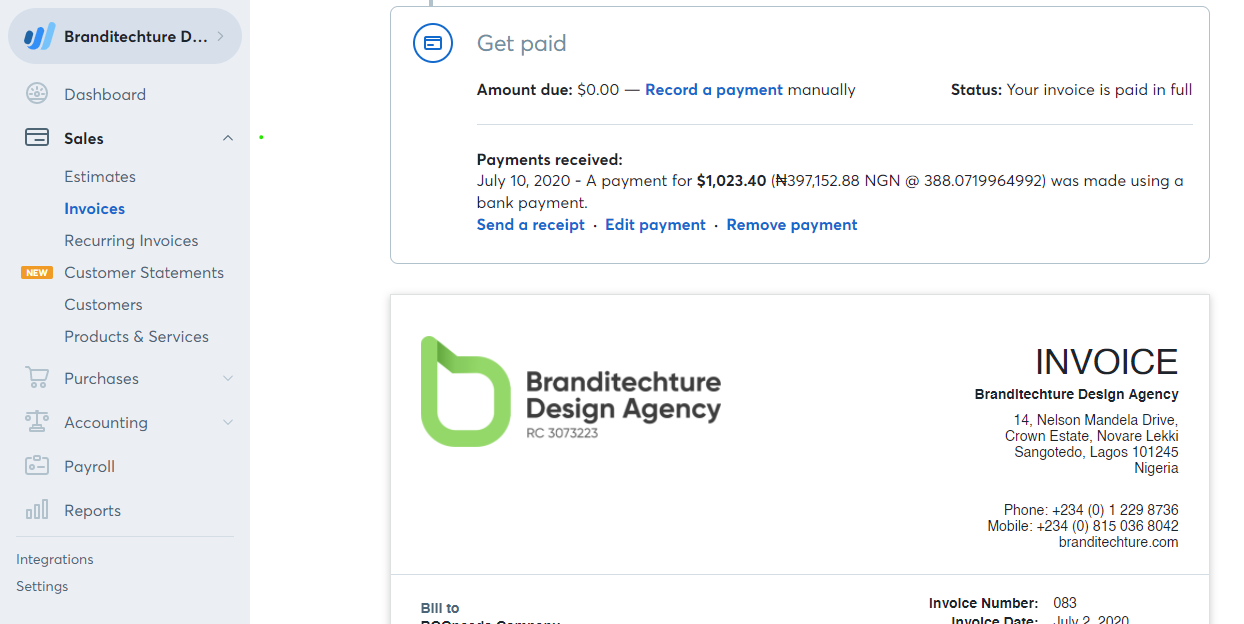 A digital invoicing system, also known as an e-bookkeeping system, will save you a lot of time and effort.
With an invoicing system in place;
You can set auto-reminders to remind your clients when they have reached the due date for payment to be made.
You can set your default footer to show your bank account information and payment methods so that you can easily get paid.
It can help you keep records of payments and project expected earnings. These records can be useful in projecting your strategy.  
You can send clients their statement of account as each client can have a separate profile in your invoicing system. 
You can find out who your highest paying and lowest paying clients are.
Most digital invoicing systems come with integration tools. For example, you can integrate a tool called Zapier, to automatically sync the e-mails of your clients into your Mailchimp list each time you send an invoice to a new client. Their e-mails can be used to send them marketing campaigns. (Let me know in the comments if you want me to create a comprehensive guide on that) 
Last but not the least, an invoicing system helps your brand look more polished and capable, especially if you have a logo, a physical (or virtual) address, a website and a corporate e-mail address such as

[email protected]

. (Let me know in the comments if you want me to create a guide on that)
Create an e-mail Signature Banner to Market Your Business
There are very huge benefits of using e-mail signatures for marketing.
Not only does it provide a subtle and less-aggressive way of marketing your brand, but it also arouses your recipient's interest each time you exchange a mail with them. 
This inevitably makes them find out more about your business, and I tell you, there is no escaping it!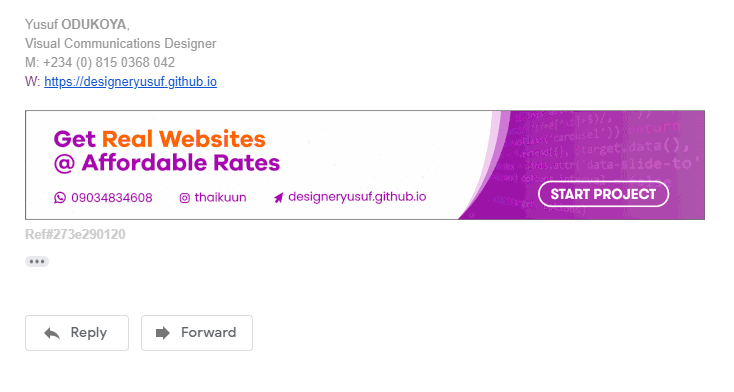 It is like a banner ad popping below your favourite app. 
You can embed CTA (Call to Action) links in e-mail signature banners.
Such links may be your website address, a direct Whatsapp chat link, a phone number to call, your Instagram page, a link to your Facebook profile etc., depending on your marketing objectives.
You can also animate your e-mail banners to improve your chances of getting them noticed.
LOVE THIS SITE?
Subscribe for updates
Listed below are the multiple advantages of using an e-mail signature banner.
You are increasing your brand awareness
Gives the impression that you are passionate about what you do
Facilitates quick access to your contact details
Helps you generate traffic and leads
More precise targeting 
It is FREE!
If you have ever used Google to search for a service online, you probably might have an idea of what Google My Business is.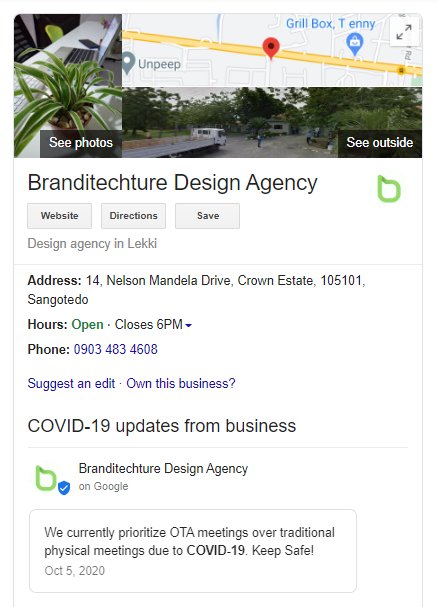 Google My Business is a free online directory created by Google. It integrates tightly into the Google search engine to give you results of business listings that are highly relevant to your search query. 
The location you are searching from may also influence the search results.
Depending on your search query, results may be influenced by the proximity to your current location. 
This makes it generally profitable for local businesses such as Restaurants, Car Wash, Gyms, Salons e.t.c. because it allows searchers nearby to locate their shops.
By using Google My Business, your business would see the following growth;
Appear in Google Maps and Nearby Places
Earn the trust of prospective customers through reviews
Increase in sales and/or website traffic 
It is definitely worth taking the time to create a Google My Business page for your business.
Audit Your Business' Online Contact Details
This means you should run a check on all your online profiles – LinkedIn, Facebook, Twitter, Instagram, Website, Business Listing Pages, etc., and triple-check if your contact details are all updated and accessible. 
You don't want to be unreachable when a prospective client needs you most, do you? 
Offer Free Consultation To Prospects
Knowing pretty well that time is money, you might be tempted to think that it is counter-intuitive to offer free consultation to prospective clients. Think again! It is actually not! Here's why;
During consultation, you have the full attention of your prospective clients. Although, this doesn't always guarantee you a paying client as it is finally up to the client as to whether to take your "expert" advice or not, the consultation, notwithstanding would give you the opportunity to pitch your business to them in a passive and subtle manner. 
You may like to read: Branding Vs Marketing — 7 Differences No One Told You
Developing a (strong) brand identity for your business is an extremely important determinant of its success in the long-run. 
In order to stand out from the rest of the competition, you need a unique and memorable visual representation of your brand. 
A strong brand identity is made up of;
Name
A Target Audience
Logo
Color Scheme
Unique Value Proposition (A.K.A. Brand Promise)
Cohesion
These are some of very many good reasons to develop and manage a brand identity;
It may make your company look more valuable (than it actually is.)
It helps you build loyalty and trust among your clients and prospects respectively.
Consistent use of logo and brand colors across all platforms makes your brand memorable.
It gives more efficacy to all the strategies described above; Your Invoice, Google My Business Page, Online Payment Pages, Website or App e.t.c would all require a logo.
There are more than a billion reasons why a website is easily the most valuable marketing asset your business can ever own.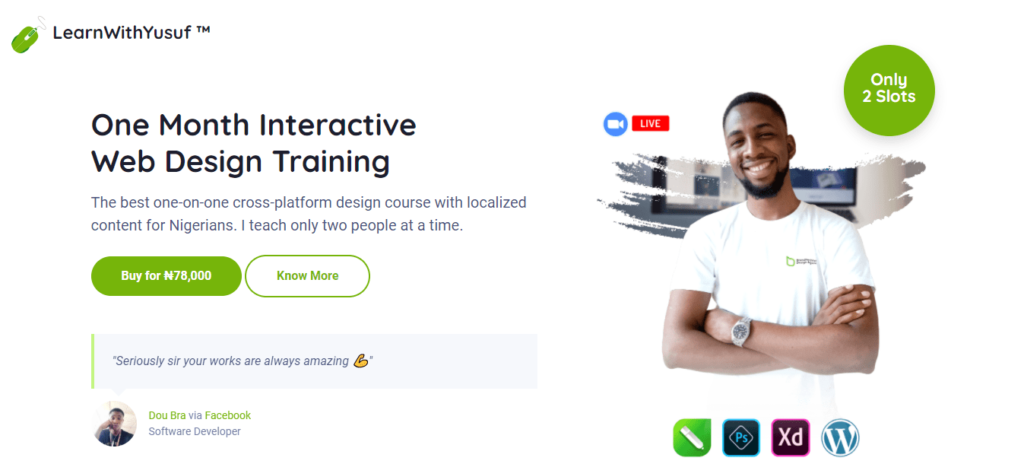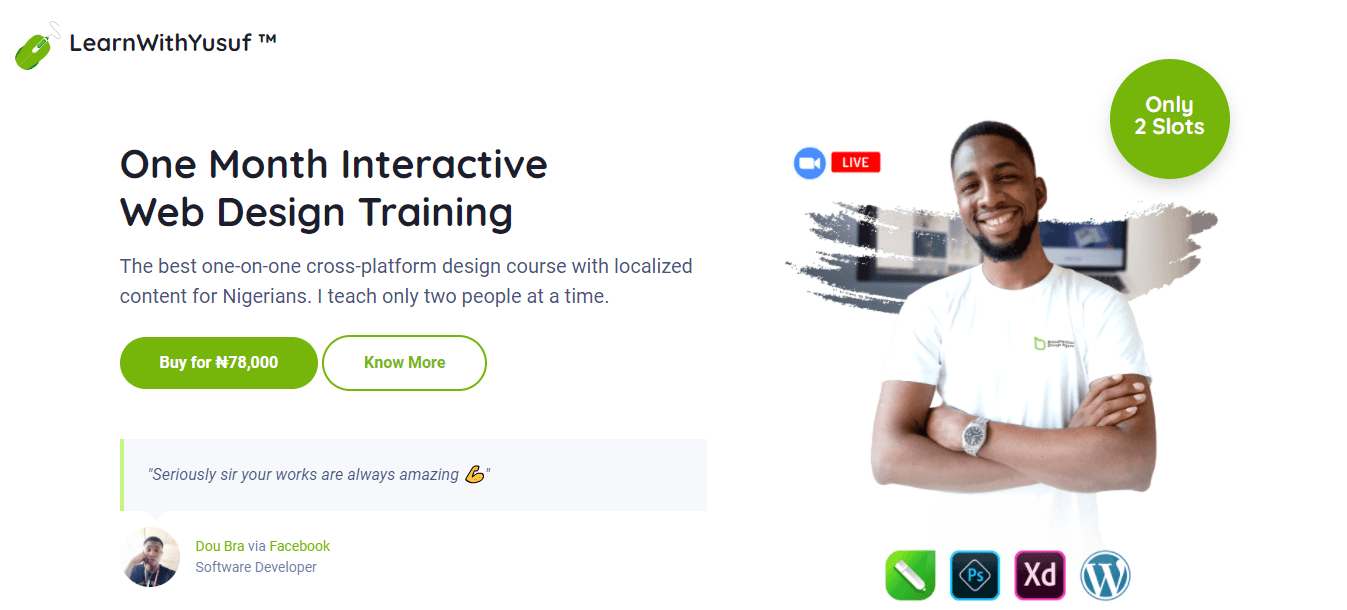 Owning a website on the web is akin to owning a house in real life, and with a custom domain name, it is just like owning a street named after your business. 
Now, imagine the massive impact it would have on your business' online advertising efforts.
Let me enumerate other advantages of owning your website and a custom domain name;
You'll be able to create corporate e-mail accounts e.g

[email protected]

You can add it to Google My Business pages to generate more high-quality traffic
Allows you to create a very strong impression of your brand online
It is one of the cheapest and most effective ways of marketing your brand 
People on the world wide web often stumble upon websites daily. That means with a website, you have higher chances of getting your business found – planned or unplanned. 
You have full ownership of your website data, unlike on other social media platforms where you may get a permanent ban and lose many years of hard work. 
Some clients, such as me, get picky on who to work with. Having a great website shows them how committed and passionate you are about your business.
Personally, I will never consider a business without a website.
If you sell things, you can create an e-commerce website. Unlike a physical shop, your e-commerce website would be open 24/7, and you get paid even in your sleep.
Read Also: 10 Common Branding Mistakes You Must Avoid
If you have checked most of the boxes above, it is now time to start putting some more marketing efforts. 
Social networks are now a key component of any marketing strategy. It is a cost-effective and phenomenal marketing opportunity. 
Advertising on social networks is usually free of charge, but you can further boost your reach by means of sponsored (paid) advertisements.
Social media has witnessed massive growth since the start of the second millennium, after the first social media website, SixDegrees.com was born in 1997. 
SixDegrees lasted just four years as it lasted until about 2001. However, that paved way for other social media networks such as Hi5, Twitter, and Facebook, which began operation in February 2004.
As of 2019, Facebook has 2.5 billion active monthly users of which over 65% are mobile users. 
Currently today, we have a lot of social media marketing tools at our disposal – from Audience Targeting to Analytics. 
Basic marketing is something you should be able to do yourself as an entrepreneur. Although it is highly effective, it requires a great deal of patience, effort, and a bit of luck. 
However, if you want more advanced marketing techniques, you should hire a digital marketing professional to do that for you. 
There are many perks of hiring a digital marketing professional, but that would be a topic for another post.
If you have any questions or comments, please feel free to comment below.